News
KEMSTREAM joins SEMCO Technologies


SEMCO Technologies, Castries, FRANCE, international leader in Electro Static Chuck (ESC) and UHP gas components (Flowlink valves) for the semiconductor industry, has acquired KEMSTREAM. SEMCO Technologies is part of ECM Group, an international leader in high performance industrial thermal solutions, with a turnover of more than 100 M€, present in more than 30 countries with 475 employees and 19 subsidiaries around the world.
The synergies created by this acquisition and the transfer of KEMSTREAM products manufacturing in new cleanroom recently built by SEMCO Technologies will allow KEMSTREAM accelerating the business growth in providing more DLI vaporizers for production applications. It will also allow KEMSTREAM to address customer needs in a more reactive manner by increasing the number of DLI vaporizers kept on stock.
Furthermore, KEMSTREAM products are very complementary to SEMCO Technologies products and will complete and extend the range of components offered by SEMCO Technologies to its customers.
KEMSTREAM at 22nd International Conference on ALD 2022


From June 26 to June 29 2022, KEMSTREAM will exhibit at the AVS 22nd International Conference on Atomic Layer Deposition (ALD 2022) featuring the 9th International Atomic Layer Etching Workshop (ALE 2022). It will be a four-day meeting dedicated to the science and technology of atomic layer controlled deposition of thin films and now topics related to atomic layer etching. The conference will take place at the International Convention Center (ICC) Ghent in Ghent, Belgium. During the industry tradeshow that will take place along with the technical sessions, KEMSTREAM will present its latest developments and advancements in the field of DLI (Direct Liquid Injection) vaporizers designed for demanding ALD, ALE and CVD precursors-reactants and processes. Please stop by our booth # 30 where you can meet our ALD and ALE expert and discuss your need for vaporization of ALD precursors and ALE reactants. For more details about the event please visit: https://ald2022.avs.org/
COVID-19 information

The urgency of the situation because of the spread of the COVID-19 epidemic in France and the orders issued by the French government to slow down the epidemic lead us to put in place telework (telecommuting) for tasks and activities which allow it. We continue our sales activities and we continue to support our customer by remote service. If you need to contact KEMSTREAM please use preferably the "contact" page of our website (http://www.kemstream.com/fr/contact).
As far as possible and taking all possible precautions, we also try to continue our production activity even if it might be impacted by the decrease of our suppliers and sub-contractors activity.
We continue to monitor this dynamic situation and we will keep you informed of any change at KEMSTREAM.
Thank you for your understanding and cooperation and for doing everything you can to keep your loved ones healthy and everybody safe.
New Vapbox 300

KEMSTREAM introduces on the market a new version of the Vapbox 300, its best seller DLI vaporizer. Compared to the former version of the Vapbox 300, this new version features an improved internal design with new baffle geometry to increase vaporisation efficiency. The vaporization chamber of the new Vapbox 300 version is also able to operate up to 250°C for only 220°C for the former version. These modifications improve the global perfomances of the DLI vaporizer and open new possibilities and markets for the Vapbox 300.
Kemstream's 10 year anniversary


Established in April 2006, Kemstream is pleased to celebrate its 10th year. On this occasion, Kemstream would like to thank all its valuable and faithful customers for their business. We hope to continue working with you in the future, to help you reach your goals. We would like to take this opportunity to highlight the fact that the satisfaction of our clients with our products will always be our highest priority.
Kemstream enters into sales collaboration with HORIBA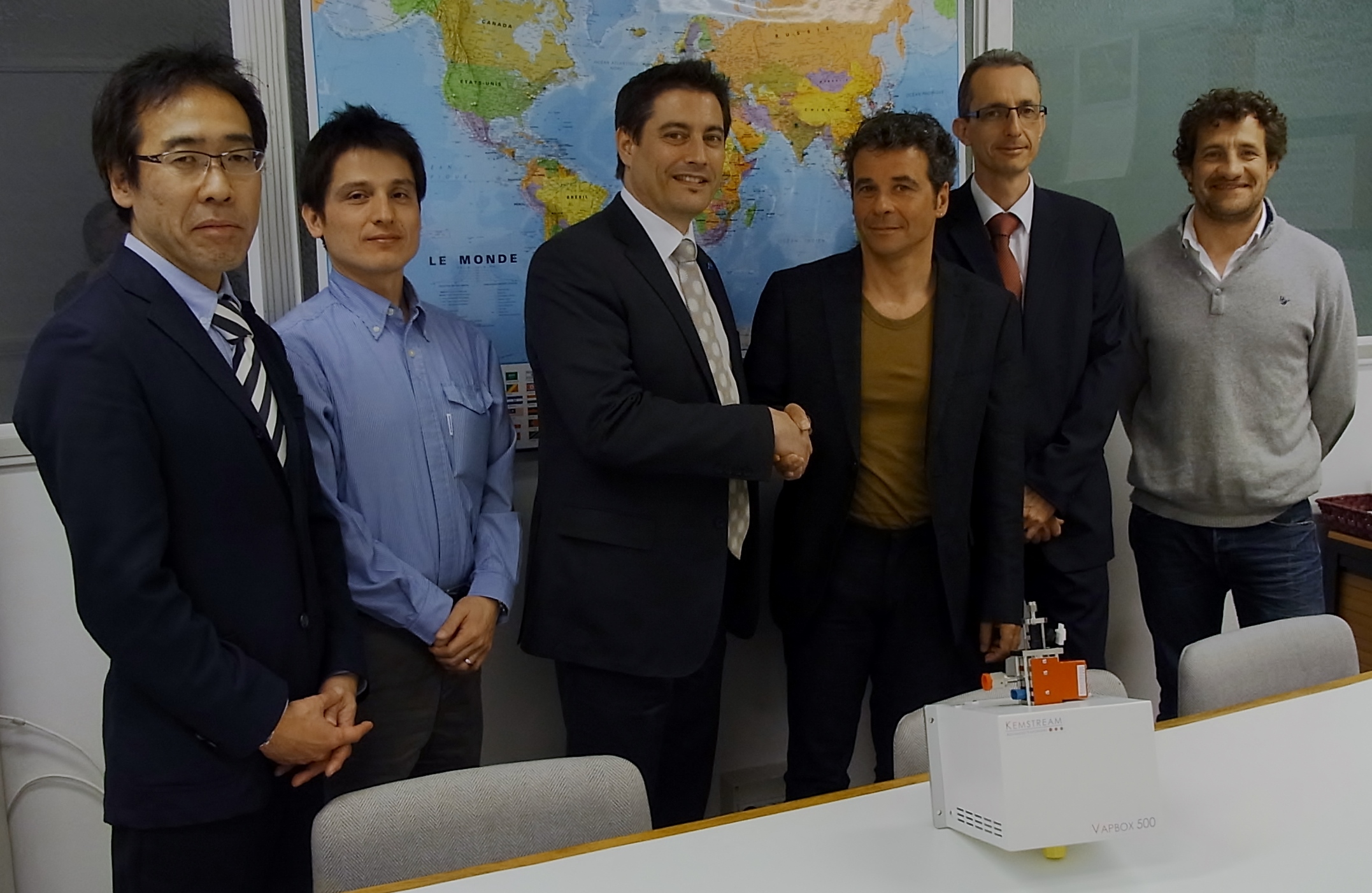 July 18th 2014 Montpellier, France, Advanced Direct Liquid Injection manufacturer Kemstream, enters into a sales collaboration agreement with the market leader HORIBA.
"As the recognized leader in flow and vapor control to the semiconductor industry HORIBASTEC is working together with its customers to develop products to deliver next generation precursors to the process chamber. We are very happy now to also bring Kemstream's extensive expertise in advanced direct liquid injection technology to our customers", comments Stuart Knight, HORIBA's Europe VP. "HORIBA's vaporizer product range will be complemented by Kemstream's direct liquid injection products which will help us meet the unique demands of next generation solid precursors".
HORIBASTEC, the world leader for semiconductor manufacturing industries, offers customers a full line of liquid flow control and liquid source vaporisation and control systems. A variety of vaporiser technologies are available from HORIBASTEC for different precursors. These include baking, direct injection and mixing to guarantee efficient and stable delivery of vapor to the point of use. Auto refill systems complete the line-up, offering uninterrupted, safe and reliable delivery of liquid precursors, increasing uptime and reducing operator handling and risk of process contamination.
Kemstream's President, Jean Manuel Decams states, "we are very happy to collaborate with HORIBA. By taking Kemstream's advanced direct liquid injection products and expertise and marrying with HORIBA's experience and strong global network we feel that the wider market will have better access to Kemstream's cutting edge direct liquid injection technology".
Kemstream's latest innovation is the Vapbox series, a wide range of high-performing direct liquid injection (DLI) vaporizers. Vapbox DLI vaporizers feature a proprietary injection-atomization technology and an optimized vaporization chamber design which allow them to perform reliable, accurate and repeatable vaporization of liquid and dissolved solid compounds and precursors. The Vapbox range generates pure vapors for every application that requires a reactive gas phase that has to be obtained from liquid or solid compounds and precursors. These applications include CVD (Chemical Vapor Deposition) and ALD (Atomic Layer Deposition) processes.
About KEMSTREAM: KEMSTREAM develops and manufactures innovative advanced Direct Liquid Injection (DLI) vaporizers for demanding CVD, MOCVD, and ALD processes and precursors. KEMSTREAM products address research and development, pilot and production applications for diverse markets including semiconductor, glass and PV industries.
About HORIBA: HORIBA provides an extensive array of analytical instruments and systems for applications ranging from automotive R&D, process and environmental monitoring, in-vitro medical diagnostics, semiconductor manufacturing and metrology, to a broad range of scientific R&D and QC measurements. HORIBASTEC is a wholly owned subsidiary of HORIBA famous for mass flow controllers, compact direct injection devices and automatic refill systems for the semiconductor, photovoltaic and LED industries.
For further information please contact semi.sales@horiba.com or info@kemstream.com
In the picture: from left to right: Takuya Ito; HORIBASTEC Sales, Shigeji Ao; HORIBA Senior Applications Engineer, Stuart Knight; HORIBA European Segment VP, Jean Manuel Decams; Kemstream President, Herve Guillon; Kemstream Sales Manager, Samuel Bonnafous; Kemstream Engineering Director